FLO Components NHES 2019 Lincoln 1844 Grease Gun Giveaway Contest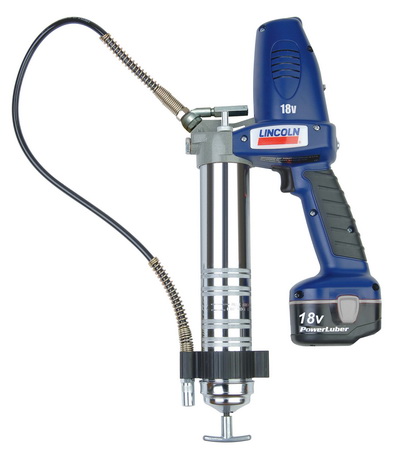 We're giving away a Lincoln PowerLuber Grease Gun!
Visit FLO Components at the NHES 2019 tradeshow in Booth #3849, from March 28 to 29, 2019 (click here for details) and enter our Giveaway Contest for your chance to win a Lincoln 1844 PowerLuber Grease Gun (approximate value CDN $615). The winner will be selected by a random draw from among all eligible entries on March 29 in the FLO Booth at approximately 2:01 p.m. EST.
See below for more prize details. To win the prize, entrants must agree to the Giveaway Contest Official Rules, Terms and Conditions.
Visit this page after the show to see who won. The name of the declared winner will be announced on the FLO Components Ltd. website, Facebook page, Google+ page, Twitter page and through press releases to traditional printed publications.
The PRIZE

Lincoln 1844 PowerLuber 18V NiCad Grease Gun Pack
Lincoln, the inventor of the cordless grease gun, remains a valuable partner with technicians, mechanics, maintenance teams, farmers and others for almost every lubrication and preventative maintenance task imaginable.
Developed for heavy-duty applications, the 18-volt PowerLuber features a high-output motor and battery technologies that unite to provide outstanding run time. The PowerLuber's versatile two-speed design gives it the capability of two powerful tools in one. At the touch of a button, it can deliver high volumes of lubricant (8.5 oz. per minute) at medium pressure or a concentrated stream at high pressure (7500 psi working pressure). The PowerLuber includes a built-in stroke indicator to make it easy to measure total output.
Features:
• Powerful high-torque motor
• 7,500 psi working output pressure
• 9 oz/min grease output at 1,000 psi (H)
• Air purge valve for immediate prime
• Slotted HD casting accepts shoulder strap
• 2-speed output selection
• High-capacity battery
• One-hour smart charger
• 30" high-pressure whip hose with spring guards and coupler
• Check-ball accessibility allows easy cleaning of contaminated or hardened grease
Packed in a convenient heavy-duty carrying case molded from impact- and stain-resistant plastic. The model 1844 kit comes complete with the 18v NiCad PowerLuber and two rechargeable batteries (Model 1801), a 110v one-hour charger (Model 1410), and a 30″ high-pressure flex hose with spring guard (Model 1230).
Visit us at National Heavy Equipment Show 2019 to Register
Share this page with friends
« Click to visit and follow FLO Components on LinkedIn.
By entering the contest, you agree to the Giveaway Contest Official Rules, Terms and Conditions and to FLO's use of your personal information in a manner that is consistent with the FLO Components Ltd. PrivacyPolicy. PrivacyPolicy
GIVEAWAY CONTEST SHORT RULES
NO PURCHASE IS NECESSARY TO ENTER OR WIN.
1. Eligibility: This Giveaway is only open to legal residents of Canada excluding the province of Quebec. Participants must be of the age of majority or older in the province or territory of residence at the time of entry.
2. Who can enter: Employees of FLO Components Ltd., its affiliates, subsidiaries, advertising and promotion agencies, and suppliers, (collectively the "Employees"), and immediate family members and/or those living in the same household of Employees are not eligible to participate in the Giveaway. The Giveaway is subject to all applicable federal, provincial and local laws and regulations. Void where prohibited.
3. Agreement to Rules: By participating, the Entrant ("You") agree to be fully unconditionally bound by these Rules and You represent and warrant that You meet the eligibility requirements. In addition, You agree to accept the decisions of FLO Components Ltd. as final and binding as it relates to the content of this Giveaway.
4. How to Enter: The Giveaway can be entered by completing an entry form in person at the NHES 2019 tradeshow in Booth #3849, at International Centre, Toronto, ON, from 9:00 a.m. EST on March 28, 2019 until 2:00 p.m. EST on March 29, 2019. The entry must fulfill all Giveaway requirements, as specified, to be eligible to win a Prize. Entries that are illegible, incomplete or do not adhere to the rules or specifications may be disqualified at the sole discretion of FLO Components Ltd. You must provide the information requested. If you use fraudulent methods or otherwise attempt to circumvent the rules, your submission may be removed from eligibility at the sole discretion of FLO Components Ltd.
5. Winning a Prize: The odds of being selected as a potential winner are dependent upon the number of eligible entries received by FLO Components Ltd. during the Giveaway Period. Limit one entry per person. Before being declared a winner, the selected entrant(s) will be required to correctly answer, without assistance of any kind, whether mechanical or otherwise, a time-limited, mathematical skill-testing question.
6. Consent and Release: By entering the Giveaway, You release and discharge FLO Components Ltd. and any other party associated with the development or administration of this Giveaway, their parent, subsidiary, and affiliated entities, and each of their respective officers, directors, members, shareholders, employees, independent contractors, agents, representatives, successors and assigns, from any and all liability whatsoever in connection with this Giveaway.
By entering the Giveaway Contest, you Consent to FLO Components Ltd.'s use, should you become the winner, of your name, place of residence and photograph or other likeness, and your testimony without further compensation or notice, for publicity, advertising or informational purposes in any media or format (including the Internet) in connection with the products, this Giveaway, or future similar Giveaways. By entering, you declare that you have complied with the Giveaway Contest Rules. Personal information collected during the course of the Giveaway shall be used by FLO Components Ltd. and its authorized representatives for the purposes of conducting the Giveaway and awarding the Prize and possibly contacting the entrants to promote other FLO Components Ltd. products or services deemed potentially beneficial to the entrant.