EXECUTIVE PROFILES

Chris Deckert, President
Chris began his career in Lubrication with LINCOLN Canada, where he spent seven years as District Sales Manager before moving to FLO in 1985. Initially in the role of General Manager, Chris has been President since 1991. To bolster his technical expertise, Chris attended and successfully completed a variety of technical courses from key suppliers such as LINCOLN Industrial, Graco Inc and PERMA USA. Professionally, Chris graduated with a B.A. in Economics from McMaster University. Since then, he has successfully completed several business management courses from Sheridan College and received his ISO 9000 Internal Auditors certificate.

Mike Deckert, Vice-President
Mike's wealth of knowledge and unique insight on the topic of lubrication has been gained over 3 decades in such diverse roles as service technician, Off-Road Lubrication Specialist, Sales Manager and General Manager in the industry. Mike joined the FLO Team in 1986 and was appointed Vice President in 2004. He is an active member of the Conestoga College Advisory Council, Faculty and Board Of Directors, an instructor of the Lubrication School at Mohawk College, an active member of the Canadian Lubrication Professionals and a Member in Good Standing of Society of Tribologists & Lubrication Engineers. Mike is a graduate of Conestoga College of Applied Arts & Technology with an Industrial Maintenance (Millwright) Mechanic license. He successfully completed the University of Alabama Industrial Distribution course and several management courses at Conestoga College as well as several technical courses from key suppliers such as LINCOLN Industrial, Graco Inc. and PERMA USA, and participated in several Lubrication Schools hosted by the Society of Tribologists & Lubrication Engineers.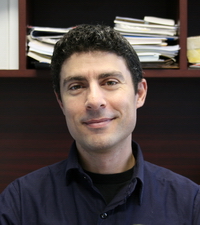 Roger Freitas, Operations Manager
Roger joined the FLO Team in the then newly created position of Operations Manager in 2007.  Prior to that, he advanced through a variety of positions over fifteen years, starting as a Quality Assurance Technician to Quality Manager to Director of Quality Safety and Environment in both industrial and business-to business industries.  Roger has developed expertise in inventory and vendor Management, developing superior customer service, implementation of ISO Quality Systems and customer focused operations.  He obtained his Bachelor of Science from the University of Toronto.  He also successfully completed an ISO Lead Auditor RAB certification and holds a Project Management designation.