FLO Components Lincoln 1844 Grease Gun Giveaway Contest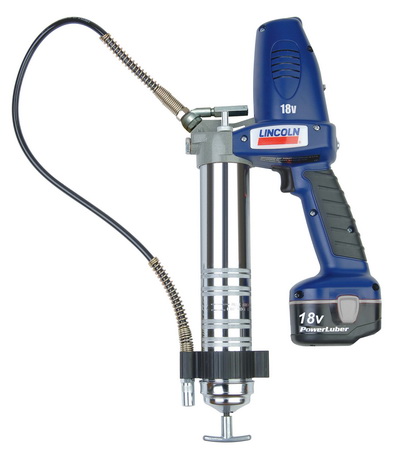 We gave away a Lincoln PowerLuber Grease Gun!
Anyone who visited FLO Components at the Truck World 2018 tradeshow in Booth #5638, from April 19 to 21, 2018, had an opportunity to enter our Giveaway Contest for a chance to win a Lincoln 1844 PowerLuber Grease Gun (approximate value CDN $615).
Anyone who couldn't make it to Truck World was able to enter using the Online Entry Form previously located on this page.
We are pleased to announce the winner of the draw in our Lincoln 1844 Grease Gun Giveaway Contest. Congratulations to Ron Humphrey of North Bay, ON. Ron's name was drawn randomly from all eligible entries on April 21 in the FLO Booth at approximately 2:01 p.m. EST. and he successfully answered a skill testing question. Ron will receive the Lincoln 1884 PowerLuber detailed below.


Watch this video to see the Draw >>
The PRIZE

Lincoln 1844 PowerLuber 18V NiCad Grease Gun Pack
Lincoln, the inventor of the cordless grease gun, remains a valuable partner with technicians, mechanics, maintenance teams, farmers and others for almost every lubrication and preventative maintenance task imaginable.
Developed for heavy-duty applications, the 18-volt PowerLuber features a high-output motor and battery technologies that unite to provide outstanding run time. The PowerLuber's versatile two-speed design gives it the capability of two powerful tools in one. At the touch of a button, it can deliver high volumes of lubricant (8.5 oz. per minute) at medium pressure or a concentrated stream at high pressure (7500 psi working pressure). The PowerLuber includes a built-in stroke indicator to make it easy to measure total output.
Features:
• Powerful high-torque motor
• 7,500 psi working output pressure
• 9 oz/min grease output at 1,000 psi (H)
• Air purge valve for immediate prime
• Slotted HD casting accepts shoulder strap
• 2-speed output selection
• High-capacity battery
• One-hour smart charger
• 30" high-pressure whip hose with spring guards and coupler
• Check-ball accessibility allows easy cleaning of contaminated or hardened grease
Packed in a convenient heavy-duty carrying case molded from impact- and stain-resistant plastic. The model 1844 kit comes complete with the 18v NiCad PowerLuber and two rechargeable batteries (Model 1801), a 110v one-hour charger (Model 1410), and a 30″ high-pressure flex hose with spring guard (Model 1230).
***Lincoln 1844 Grease Gun Giveaway Contest Now Closed
Share this page with friends
« Click to visit and follow FLO Components on LinkedIn.